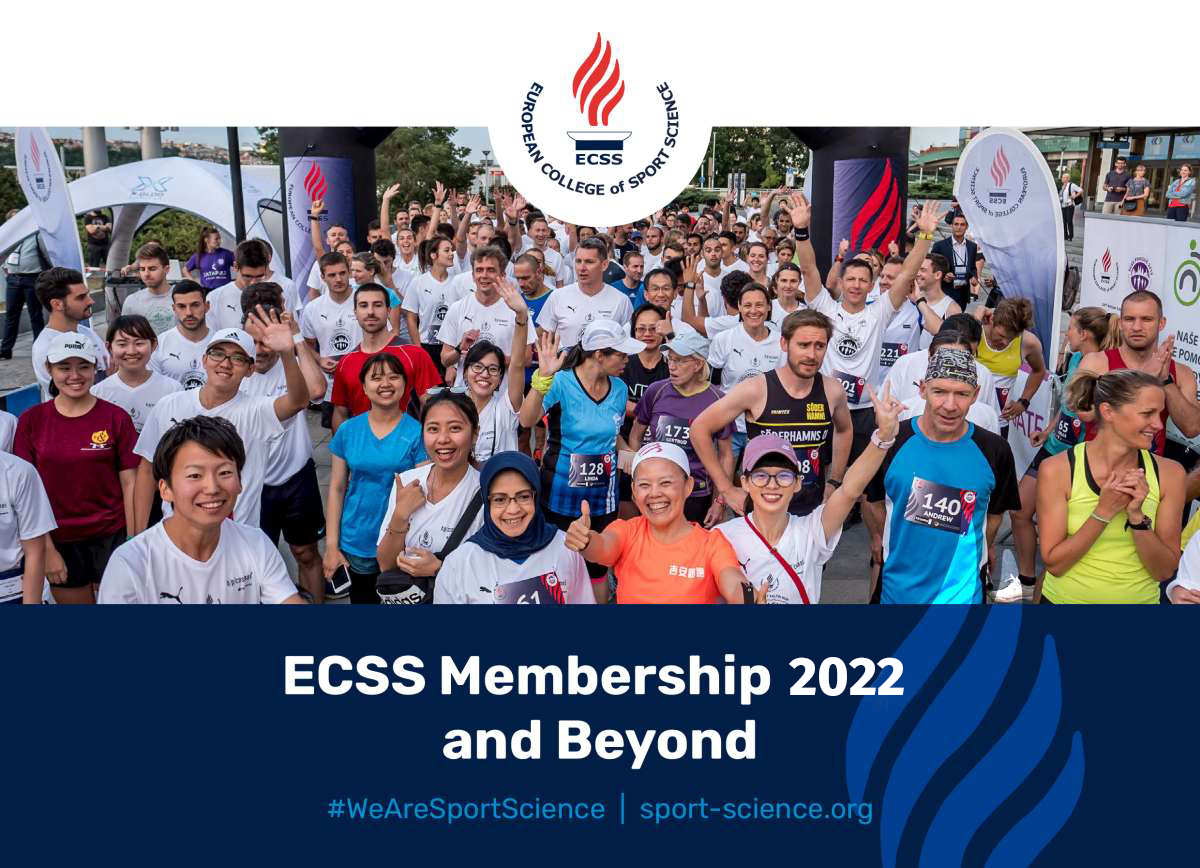 Download the full membership brochure here 
Support your future in sport science through ECSS membership
We are a non-profit scientific organisation devoted to the promotion and dissemination of multi-and interdisciplinary research in sport and exercise science. Founded in Nice, France in 1995, we have established ourselves as the leading sport science community in Europe, with a truly international demographic.
ECSS members are the heart and soul of the College, you are at the centre of all we do. Our missions are largely based around supporting you in your career as well as the field of sport science. We aim to:
Disseminate high quality, innovative science
Empower the development of young scientists
Build and retain an engaged ECSS community
Develop strong partnerships within the private and public sectors

 Why become a member?
Support the field of sport science
Be part of an international community with similar interests and goals
Access a range of sport science benefits and products
Receive a discount on the ECSS Annual Congress
Participate in the prestigious Young Investigators Award
Progress your career in sport science


What are the membership options?
Our membership is available on an annual basis under the following categories:
ECSS Member 100€
Student Member 50€
Please see our Fellowship page for information on how to apply for ECSS Fellowship. ECSS Fellows require a minimum of five years ECSS membership history. Fellows who have not paid their membership fees for consecutive years will lose their ECSS Fellow status. 
What benefits and products will I have access to as an ECSS member?
ECSS Webinars
A 20% discount on registration fees for the ECSS annual congress
Full online access to the European Journal of Sport Science (EJSS), including back issues plus bimonthly hard copies (when ordered) and latest articles (including DOI) published ahead of print
Access to additional selected journals from Routledge, Taylor & Francis (currently: Journal of Sports Sciences)
Discounted books from Routledge, Taylor & Francis Group
Discount on language checking, proofreading, and editing of papers and conference presentations – offered by JM Proofreading & Editing
Participation in the ECSS Young Investigators Award (YIA) – only members are eligible to enter the YIA competition
Opportunity to vote in the ECSS elections
Opportunity to be nominated for ECSS elections
Opportunity to be elected for boards
Latest ECSS news and information
ECSS also supports your career development through its freely available Job Vacancies and Events Calendar, the ECSS congress abstract database, and public video channel ECSS.tv, which hosts a wide variety of scientific presentations from each annual congress.
How do I become an ECSS member or renew my existing membership? 
To renew your membership please log into your ECSS account and visit the secure membership page to select the membership category that applies to you.
To become a new member, please visit our homepage and go to ECSS Account Log In to set up a new member account. Once you have set up your account, visit the secure membership page to select the membership category that applies to you.
Membership requirements
To become an ECSS member, you must hold a university-level degree in the field of sport and exercise science or its sub-disciplines. 
Student members are undergraduate or postgraduate students in the field of sport and exercise science and its sub-disciplines. Student members are entitled to all membership benefits.
Please note that we only accept international student IDs for student registration. An international student ID is available for every student worldwide and it provides you with many discounts on hostels, restaurants, museums and more. You can easily obtain your international student ID by visiting www.isic.org. Please send a copy of your international student ID to This email address is being protected from spambots. You need JavaScript enabled to view it. to prove your student status.
Any problems, please reach out to us at This email address is being protected from spambots. You need JavaScript enabled to view it.
Thank you for supporting the European College of Sport Science
If you have a spare moment, please take part in our membership survey which we use to improve our package every year!
#WeAreSportScience
sport-science.org