An expansive area has been reserved for our official congress exhibition SportEx, which will be the hub of ECSS Paris 2023. Coffees and lunches as well as different activities take place exclusively here.
Exhibitors from all over the world eager to advance and improve science and research will present their latest products and services. These range from nutrition and performance-enhancing supplements to measuring devices and software solutions for physiological and biomechanical analyses to state-of-the-art wearable devices for training and regeneration - to name just a few.
One year before the Paris Olympics, a unique audience of key players and decision-makers from the field of sport and exercise science and medicine will be present to network and collaborate in anticipation of the world's most important sporting competition.
Be there, to shape the sports market of the future!
A basic exhibitor package includes:
Two free registrations provided for a 6m² booth, three for 18m², four for 24m²
Three SportEx day passes
One congress partner profile including logo placement on congress website and on final programme online and print copy
Please note, an exhibition space booking excludes any kind of booth construction and exhibition services such as electricity, lighting, furniture, etc. These services need to be booked with Viparis webstore.
Early Bird booking period (350 EUR / m²) ends on 1 May 2023. Bookings received after 1 May 2023 will incur an increased price for the exhibition space: 400 EUR / m²
Booking deadline: 2nd June 2023
Download Floor plan Download Exhibitor Manual
Floor plan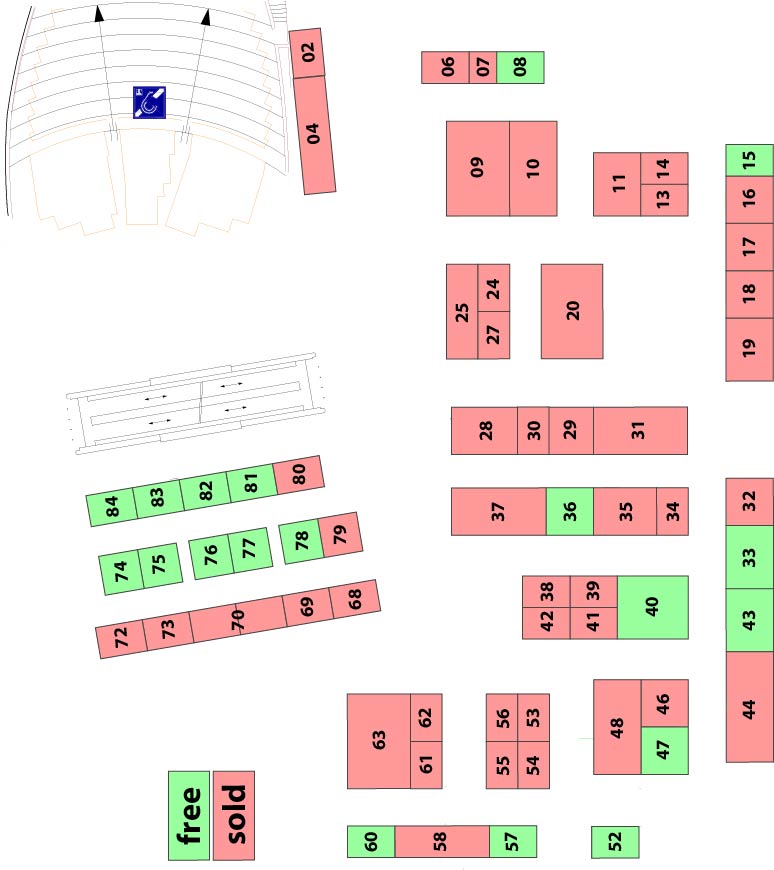 Share your knowledge – generate return on investment
SportEx 2023 opening hours
Wednesday, 5th July 2023
09:00 – 17:00 CEST
19:30 – 21:00 opening reception in exhibition area (optional)
Thursday, 6th July 2023
09:15 – 16:30 CEST
Friday, 7th July 2023
09:15 – 16:15 CEST
SportEx 2023 set-up/dismantling
Tuesday, 4th July 2023
Exhibition set-up 08:00 – 20:00 CEST
Friday, 7th July 2023
Dismantling 16:15 – 22:30 CEST
For accommodation bookings, please visit our accommodation webpage.

Please book your desired booth space via your partner account
If you have any questions, please do not hesitate to send an email to This email address is being protected from spambots. You need JavaScript enabled to view it..